What Metals Cannot Be Recycled
Do you have metal lying around that you want to get rid of? Recycle with us! Community Recycling is a local metal recycling center that pays cash for non-ferrous metals. So, what does that mean exactly? This blog explains the difference between ferrous and non-ferrous metals and which items we will pay you to get rid of.
Ferrous vs. Non-Ferrous Metals
Simply put, ferrous metals contain iron, whereas non-ferrous metals do not. This matters because the inclusion of iron into a metal drastically changes the integrity of the material and the recycling process.
You commonly see ferrous metals in major construction as it is highly durable and magnetic. Picture skyscrapers, shipping containers, railroad tracks, cars, ships, and more.
Non-ferrous metals are found in electronics, batteries, wiring, and roofing materials because it is highly malleable and resistant to rust.
What Metals Cannot Be Recycled
So, what metals cannot be recycled? Trick question! Community Recycling accepts all metals; however, they only pay cash for non-ferrous materials. Therefore, items commonly made with steel, carbon steel, alloy steel, cast iron, and wrought iron will be accepted, but will not return a profit.
Fortunately, there are a plethora of non-ferrous items from aluminum cans to Christmas lights that you can recycle with us to make a little extra money. Are you still unsure whether your item is ferrous or non-ferrous? Check out the list below for a detailed explanation of what we accept.
Items You Can Make Money from Recycling
At Community Recycling, we pay cash for the following items: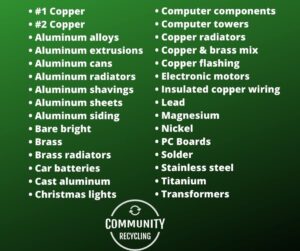 If you don't see your item on the list but believe it is a non-ferrous item, you can either call us for approval or drop by! Please keep in mind that metal prices change daily, so we recommend calling ahead to get a quote if you want to make the biggest bang for your buck. For more information about Community Recycling, give us a call today at (972) 423-3824.
YOUR PLANO WHOLESALE SCRAP METAL COMPANY