How to Get The Most Out of Today's Scrap Metal Pricing
If you're in the middle or even at the end of your Spring Cleaning routine, you may have a pile of cash just sitting there. What kinds of scraps are you throwing away? Most people are getting rid of all kinds of scrap metal that could actually get them some cash when recycled. Before taking your pile to the junkyard, take a look at this guide and see if you can get something out of today's scrap metal pricing.
What can I recycle?
If you're wanting to get the most money you can get from today's scrap metal pricing, you should focus on bringing in high-value metals like copper, aluminum, and brass. You can also get paid for recycling electric motors, pool pumps, appliances, and certain computer electronics.  Pretty much any metal products that contain non-ferrous metals can be recycled at Community Recycling in Plano, TX.
When you do plan on bringing in a load of scrap metal to recycle, you can save yourself some time and maybe even get some more money for your scrap by sorting out your metals and disassembling any machines. We will be able to give you the scrap metal pricing for each different metal instead of an average price for the entire load.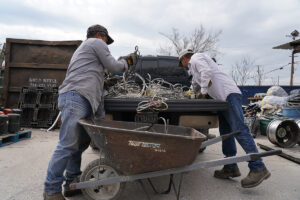 How much is my scrap metal worth?
Today's scrap metal pricing changes all the time, sometimes even hour by hour. The best way to get an accurate estimate is to fill out our form online or call us at (972) 423-3824. We'll be able to ask you important questions about what you're bringing in and then we can tell you what to expect from today's scrap metal pricing. 
YOUR PLANO WHOLESALE SCRAP METAL COMPANY