Community Recycling: Your Plano Scrap Metal Expert
For the last 30 years, Community Recycling's been at the heart of Plano scrap metal recycling. Our family-owned business set up shop here in Texas after we saw a need for sustainable practices. Now, we are one of the top places for your scrap metal recycling needs.
What is scrap metal recycling?
According to Britannica, scrap metal is defined as "used metals that are an important source of industrial metals and alloys." Scrap metal can include a variety of materials, such as steel, copper, lead, and zinc. Even computer wires contain scrap metal! Computer wires are one of the most popular scrap metals to recycle, as well as, aluminum, brass, and more. Luckily, Community Recycling takes these scrap metals and more to give you cash back. Check out the full list of scrap metals Community Recycling accepts, here.
Scrap metal surrounds us in all areas of our homes, offices, and most buildings. Any kitchen contains pots, pans, cans, appliances, and more – all made out of metal. Don't throw away that old aluminum cookie sheet or stainless-steel pot – take it to Community Recycling for cash. Lamp bases, televisions, gutters, washer dryers, patio furniture, old nails and screws are all examples of more scrap metal you could get cash for.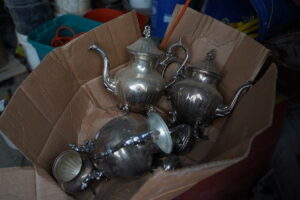 Not sure if you can recycle an item? Just ask! We are more than happy to answer your questions as your Plano scrap metal experts.
Why choose Community Recycling?
We offer fair and reasonable prices that align with the national averages for scrap metal. That's why we've been in business since 1991! As a family-owned and operated business for 3 generations now, we take pride in practicing sustainability. Nearly 40% of worldwide steel is made using recycled steel, and statistics like these are made possible by you. It's important to recycle, not to mention it could get you a little extra cash in your pocket.
Aside from our Plano scrap metal recycling services, we also offer scrap copper recycling, electronics recycling, and container services. Contact us to learn more about Community Recycling.
YOUR PLANO WHOLESALE SCRAP METAL COMPANY