Your Go-To Plano Recycling Center
Nowadays, it's hard to know who you can trust to do business with. As your go-to Plano recycling center, we take pride in the way we conduct business. Whether it's for a company or an individual, we want to make living a sustainable lifestyle easy – and profitable – for everyone.
Why are we the top Plano recycling center?
We began business in the heart of Plano over 20 years ago, and are still family owned and operated today. As one of the first scrap metal yards in the area, we established ourselves as a Plano recycling center you can trust. Our business values have not changed over the years, we believe in fair and reasonable prices for orders of any size.
Our competitors can't beat our prices, we will offer you more than the scrap yard down the way could. We base our prices off of national averages, though they may fluctuate, we stay true to our margins. Not only do we honor that, we also are more than willing to negotiate anytime you come to our office. We appreciate every customer that walks through our doors, which is why we have built many relationships with long-time customers.
What kinds of scrap metal do you accept?
From #1 copper to titanium, we accept a wide variety of scrap metals, making us your one-stop-shop for your selling needs. For a full list of our scrap metals, see our services. If you are still unsure of what kinds of metal we will accept, give us a call! We would love for you to contact us with your scrap metal recycling needs.
We aren't your go-to Plano recycling center for nothing. Commercial customers and individuals alike can be comforted knowing they are getting the best price for their scrap. Drop off your scrap with us today, we are just off of K Avenue in Plano!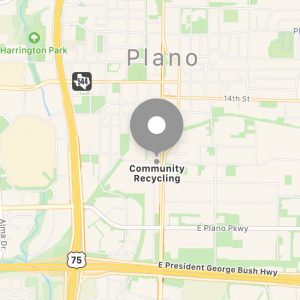 YOUR PLANO WHOLESALE SCRAP METAL COMPANY