Find Copper Recyclers Near Me
If you have some extra copper that you wish to sell, you may be trying to search for 'copper recyclers near me.' Community Recycling is the answer you've been searching for!
Copper Recycling
Copper can be found inside your computer, throughout your house in electric wiring, inside your car's engine, in your bathroom's piping, and so many other spots! Because of the various ways to use copper, it is valued very high in scrap metal recycling. Mining raw copper ore is a costly and tedious process, so it is much more cost-effective and better for the environment if the world can reuse it from previous places. In fact, recycling copper can save 85-90% of energy resources as opposed to mining the earth for new copper ore!
Copper Recyclers Near Me
Once you locate extra copper throughout your home that you wish to recycle, you need to find somewhere to bring it! At Community Recycling, we are a family-owned and operated business that has been recycling scrap metal for over 20 years. Conveniently located in Plano, TX, we make it easy to turn scrap into cash! We are experts in scrap metal recycling, and we want to help you become sustainable in any way we can.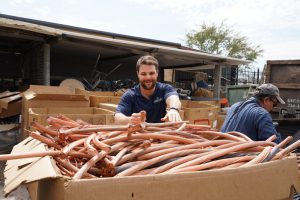 Earn Cash
The best part about bringing your extra metal scraps to copper recyclers near me is that you get to earn cold, hard cash! We offer the best prices in the area, so you'll get the most bang for your buck on every item you bring in, especially copper! Prices for each item vary daily because we base them on national averages as they fluctuate throughout the day. We keep a close eye on the market, which is how we ensure that we are providing you with the best prices and services.
Not only will recycling your scrap metal earn you money, but it will help our environment in huge ways! If you're interested in trading your copper scraps for cash, please contact us today!
YOUR PLANO WHOLESALE SCRAP METAL COMPANY